A screen shot LP guesstimate on what would Raocow say.
As some of you may or may not know, Raocow's latest little LP is a project done by the talkhaus forums called ASMXBT(or something like that)
This was one of those games I wanted to try out for myself, and since I was mentally doing it anyway, I figured I would share with you, the mental process of me playing through the game and trying to suss out, exactly what raocow would say for his own LP of it.
Thus, I create this thread and welcome you "Outpredicting the storm"
courtesy links
http://www.youtube.com/user/raocow
http://everything.raocow.com/by_game.php
http://talkhaus.raocow.com/viewtopic.php?f=29&t=13073
– Where you too can get the game
and the latest video in the series of Raocow's LPs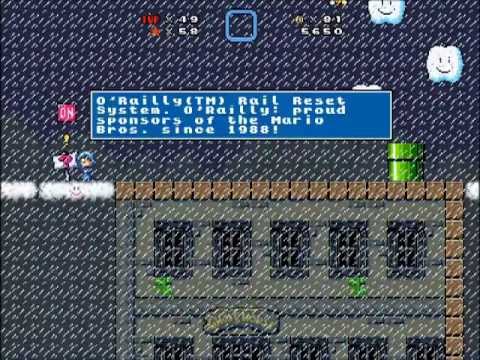 Pro-cautionary tip: I will not predict any introductions or outroductionrs or video name on the basis of shut-up
[spoiler]
Our first level for the video[/spoiler]
This first level is quite a bit of a race-challenge, I fully expect it to kill him once, at least. Word quoting would be something of [spoiler]
"Woah, Vibes, Neat" [/spoiler] either that, or something pointing towards the pandering nature of this level "I heard you like weird levels"
Now, his first immediate action after the initial period of soaking it in will be to hit that blue off button, his emotive state afterwards will that of confusion as
[spoiler]
Nothing happens[/spoiler]
After searching around for a bit (it's 3x3 screens, that's almost as much as 9, and that's terribul)
He'll find a message block, displaying the following [spoiler]
[/spoiler] [spoiler]
[/spoiler] Which leads to my first branching path behavioral guess.
(As you may have noticed from the first 2 screenshots, there was a letter at the bottom of the screen, as the message implies, there is 8 letters, ranging from A to H)
Branch A. Raocow explored all 9 screens before hitting the message block, he realizes what he has to do, panics and dies, and has to do over.
Branch B. Raocow did not explore all the screens, hits the message blocks, becomes confused for a moment before realizing what he has to do, panics as he runs out of time doing what he has to do, dies and has to do over.
[As you can tell, both branches don't steer too far away from the main Raocow Tree, but that may be a possibility with more "complex levels"]
To give you a measure on how strict the time-limit is, [spoiler]
[/spoiler]
This is the end of the level in the next screen.
Final summary of my prediction, >Amazement at the theme, Panic at first, followed by completing the level, even possible praise for it's design visually.