So, as you all know, Mo is doing a liveblog of Dungeon Crawl: Stone Soup. If you need an explanation about what exactly that is, Mo's already written a succinct explanation for you in his thread. Seriously, at least skim his thread first.
Anyways, like Mo, I'm working off of the current 0.14 build and I haven't won the game yet. Unlike Mo, I have a taste for picking unusual builds that usually get me killed in the first seven floors of the dungeon.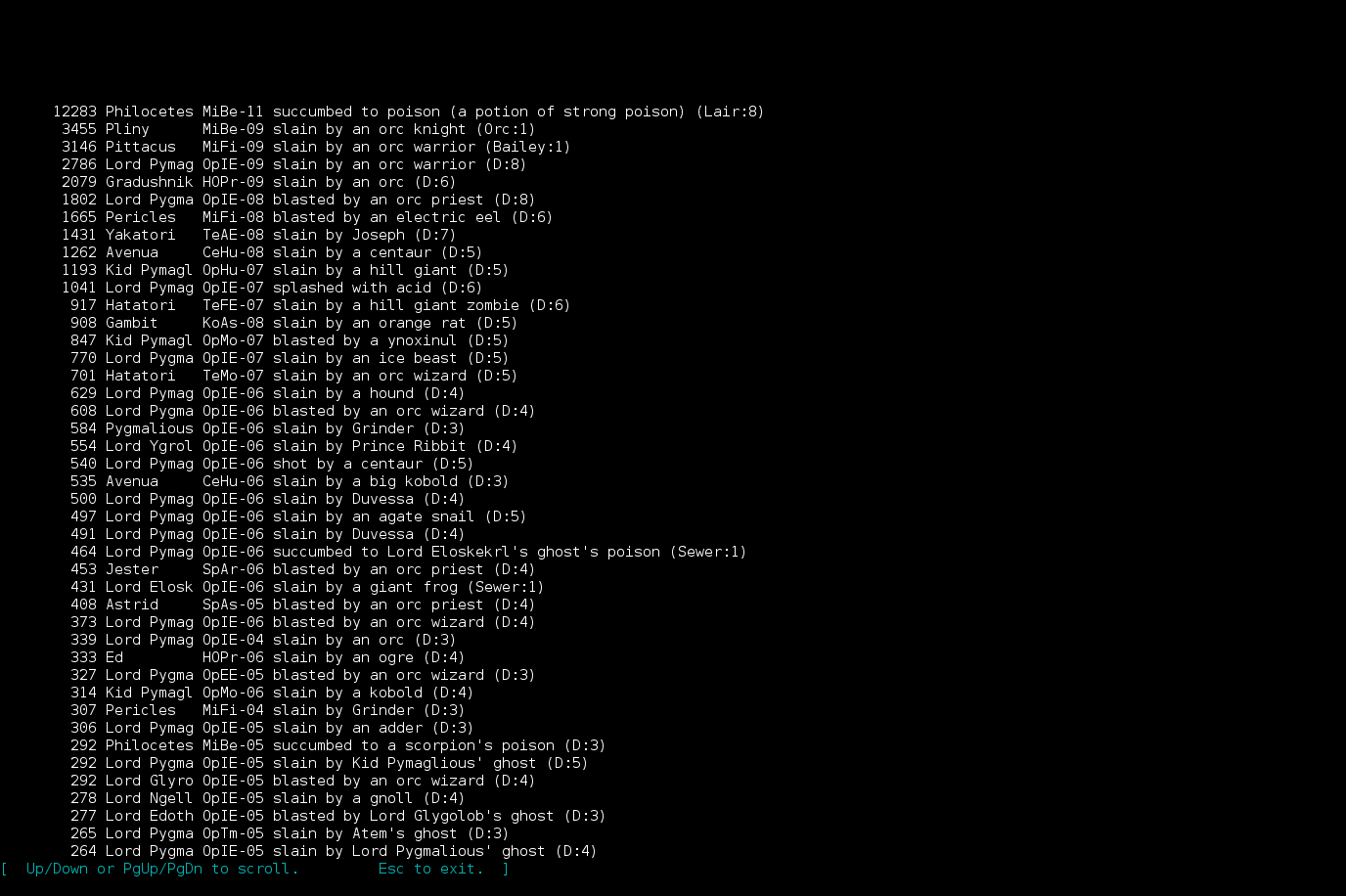 So, while Mo shows you the beauty of an efficient, properly executed dungeon crawl, I'll be showing you what happens when you trip at the dungeon entrance and stumble your way down the floors.
For the first of our dispensable cannon fodder, I'm going to starting off with one of my favorites: the Octopode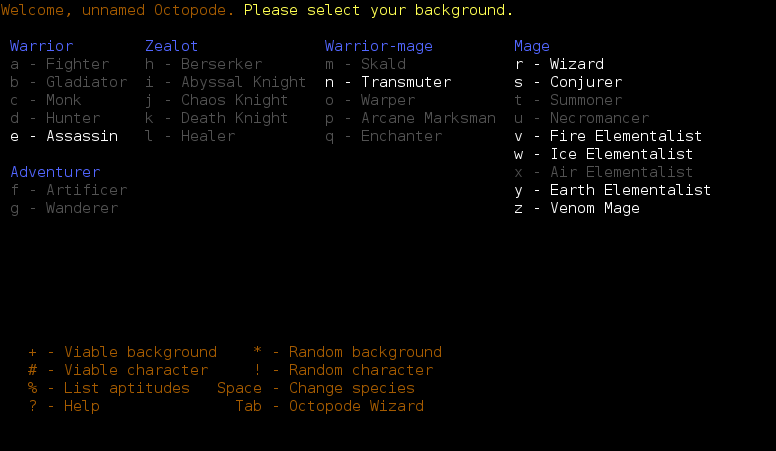 While I do tend towards unusual builds, I do try to give at least 'some' chance of success. So we'll be going with Assassin, since it has good synergy with the Octopode's natural stealth abilities.
Notice that most of the non-Spellcaster classes are blacked out.. We'll see why in a moment.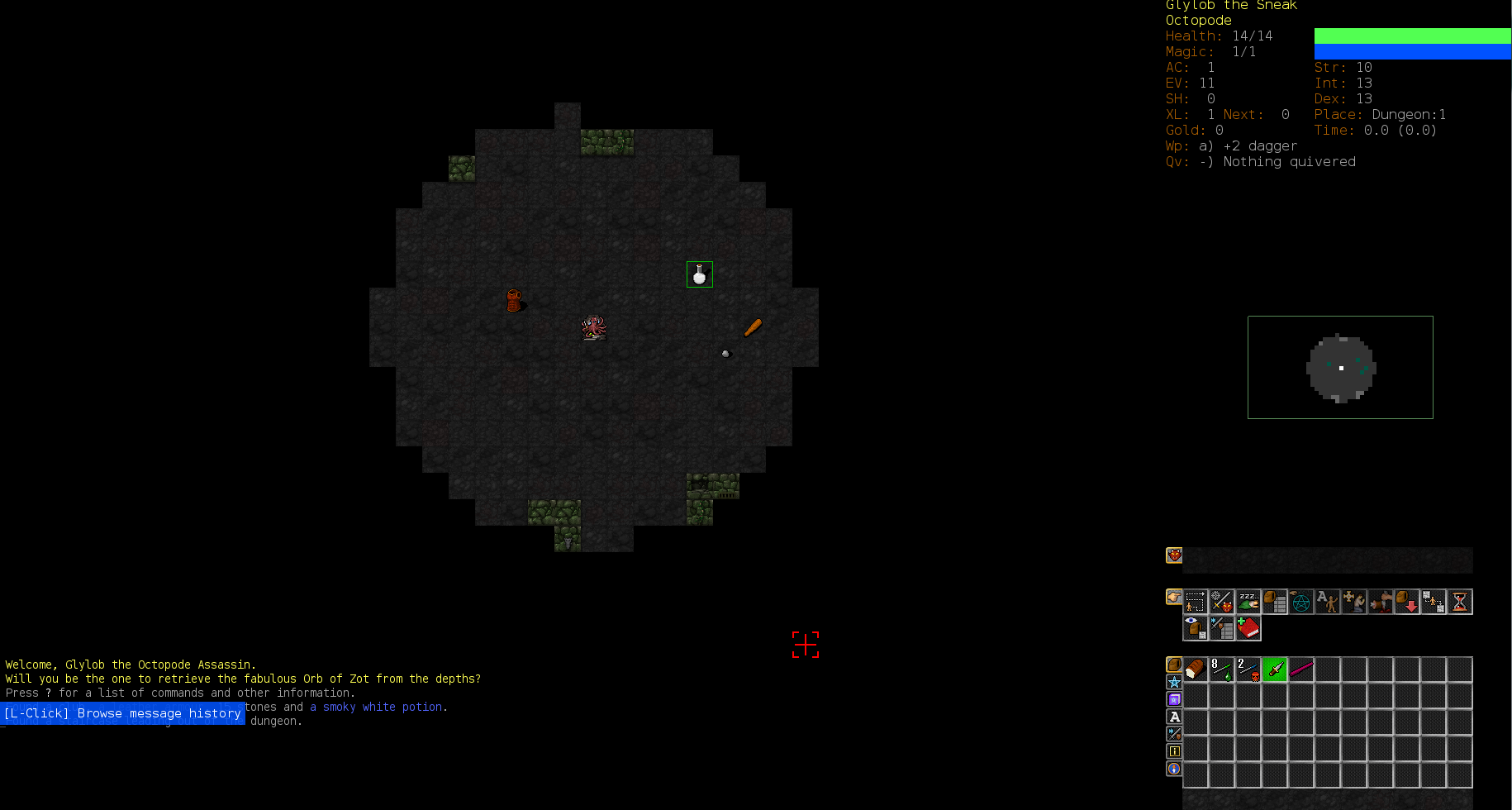 Note that first one. Octopodes are unable to equip the majority of armor due to, you know, not being bipedal in any shape or form. While this makes it a good fit for the Assassin class and most spellcasting classes, who usually don't wear much more than a glorified bathrobe, it means that melee battles end poorly after the first few dungeon levels.
Also note the third one. Because ring magic is linked to how many hand-appendages you have, Octopodes are able to equip six more than the usual two rings. Potentially, this means having a bunch of awesome rings that allow you to reign over the dungeon like a slimy, slimy god. Let's just hope that we survive long enough to get some decent rings.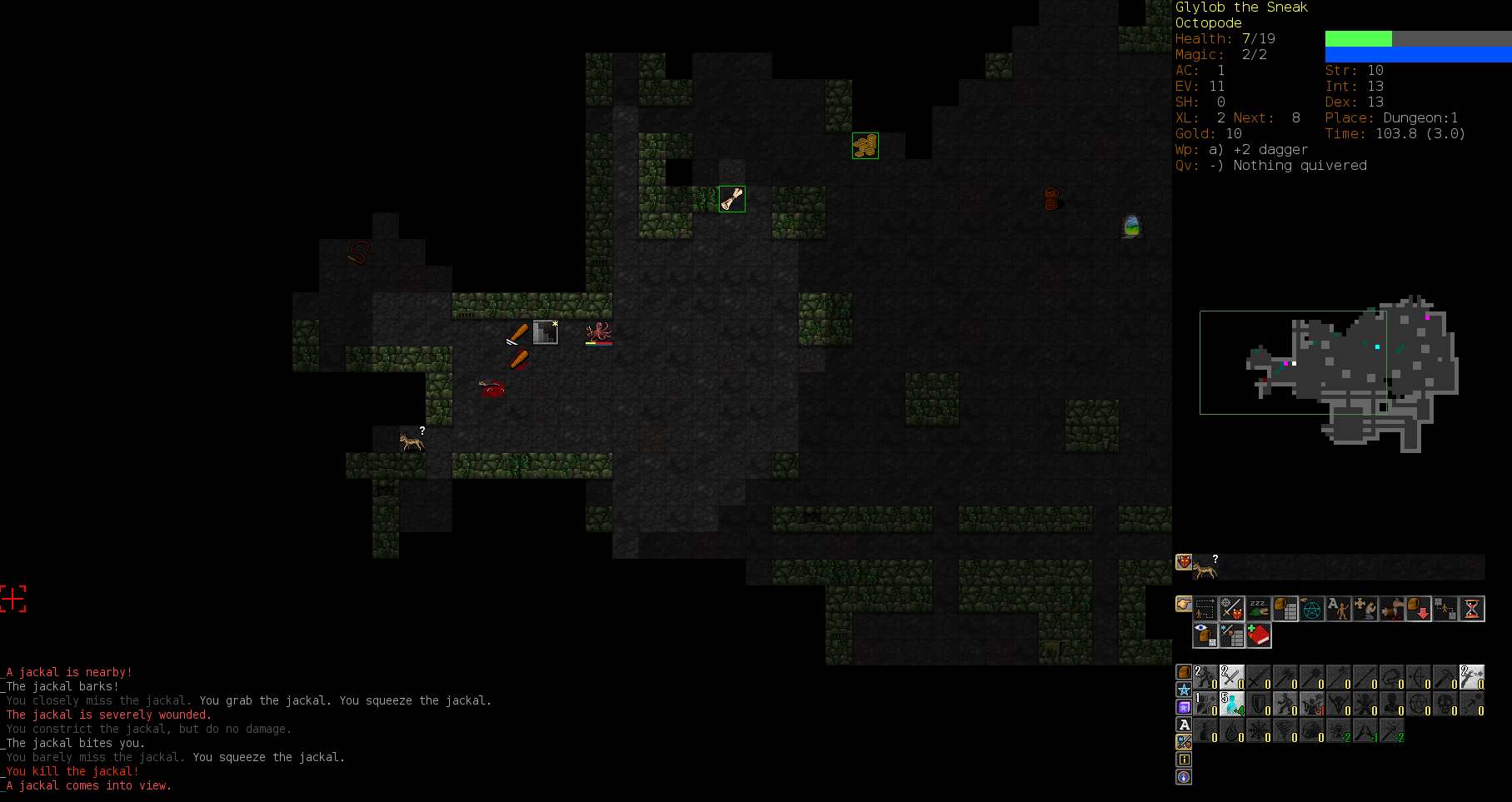 Ideally, the assassin is to sneak into melee range while their target is asleep, and then stab them while they're vulnerable. However, all the monsters so far on this level are really good at hearing slithering tentacles, so we've had to fight our way out of some weaker mobs. Luckily, the natural AC+1 bonus and the +2/2 dagger should keep us from getting into too much trouble.
Also, we're currently limiting our skills to stealth and short blades. Once we can consistently stab our enemies in their sleep, we'll start training dodging and throwing.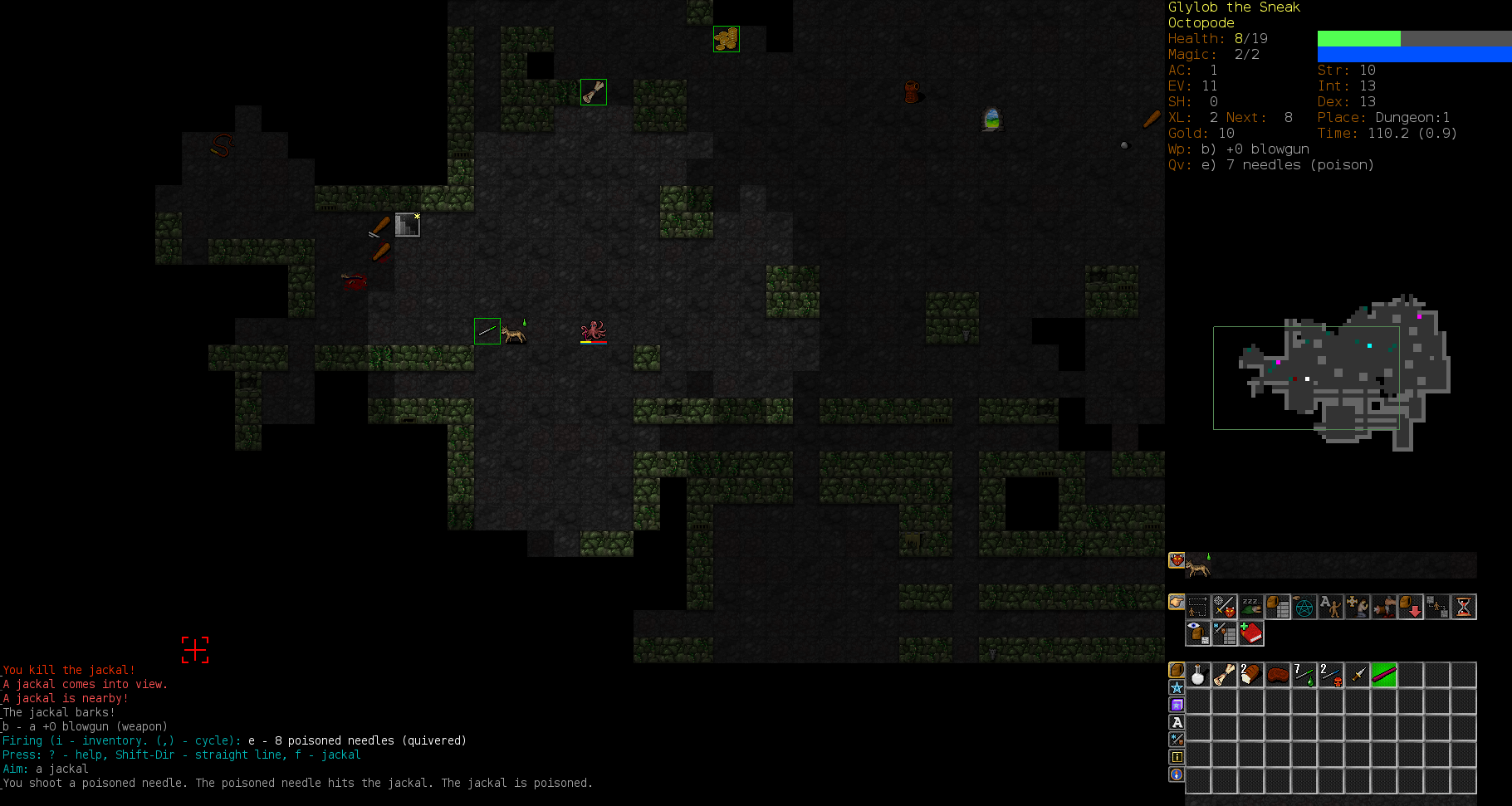 And here we see why an assassin needs to train throwing. The blowgun is the most powerful weapon in an assassin's inventory, with one or two poisoned needles killing most things in the first few floors. The curare needles are a mix of poison, confusion and a number of other nasty effects, making it effective against most enemies. Unfortunately, the game starts you out with a limited amount, and all projectiles have a chance to disintegrate on contact with the enemy, so we'll be saving the blowgun for emergencies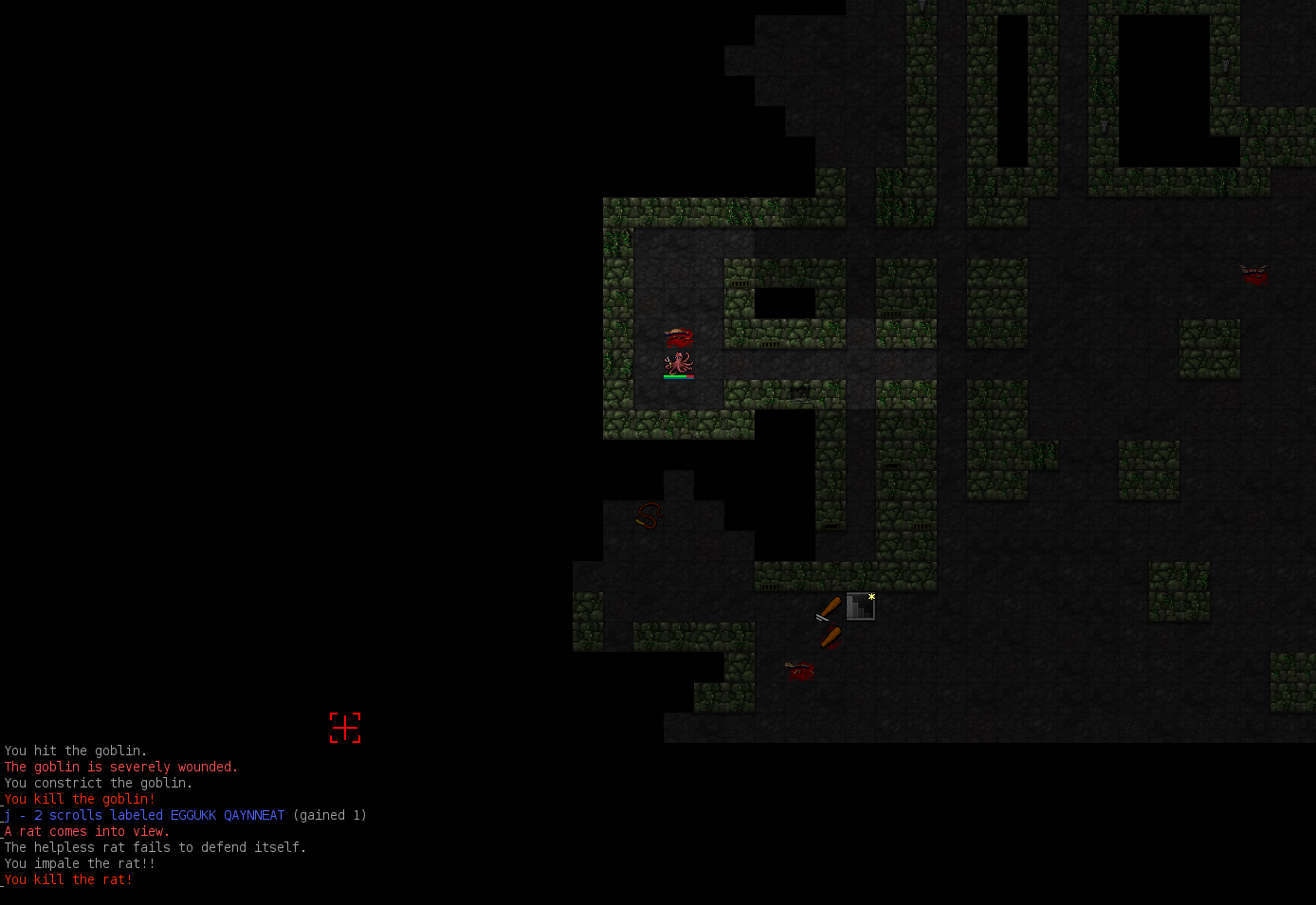 And we get our first stab of the game. Stabbing, officially, is the act of harming a being who's asleep, confused, paralyzed or otherwise unable to notice the octopode with a knife shanking them. Aside from adding a flavorful hit message to the log, stabs can deal high amounts of damage based on your weapon skill and stealth skill. Right now, it's an 87% increase in damage, which will kill most things outright in the early game, but leveling should bring it into the 100% range soon enough.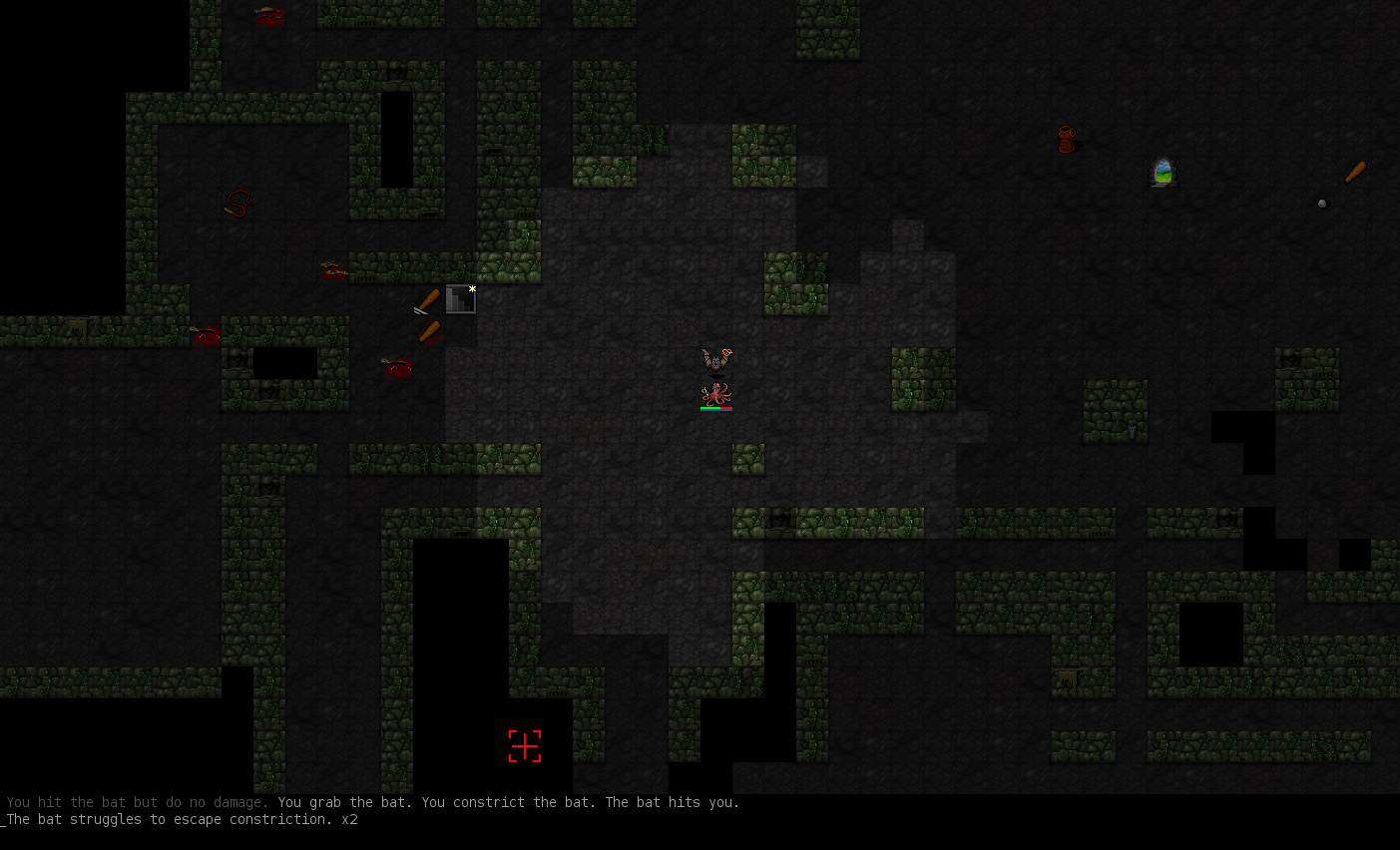 Here's a demonstration of one of the Octopode's other natural abilities. The Octopode can use one of its spare tentacles for auxilary attacks. If the tentacle lands a hit, it constricts the enemy, keeping it from running away as long as you don't run away. Normally, the Octopode avoids melee if they can help it, but it is useful to keep fast enemies still while you pound on them.
[/spoiler]
And that's it for D:1! We'll see more next time, assuming that D:2 actually has some useful loot.