Hey there! This is gonna be a screencap LP of DungeonCrawl StoneSoup. I'm gonna sort of assume that anyone reading this has no knowledge of the game whatsoever, even though I know some of you do.
DungeonCrawl is one of the major modern roguelikes (here, we mean "straight" roguelikes, as opposed to genre hybrids like The Binding of Isaac or FTL). Another one, probably much better known, is NetHack. Roguelike games are a bit too complex a concept to explain here, but in short, they're RPGs that focus on very heavily strategic, turn-based gameplay. Furthermore, once your character dies, they're gone forever, and short of some very tricky manipulation of the save files, there's no way to get them back. Finally, we're going to be playing in Tiles mode, ie. actual picture graphics instead of ASCII characters, both because it is what I prefer and because it's easier to parse for the readers. We'll also be using the latest stable build (.14.1). There is a newer "Trunk" build I could use, but they include features that may never make it into a stable release, so I generally prefer not to do that.
EDIT: From now on, all old updates will be beneath a spoiler cut, to make the thread more readable.
[spoiler]

This is Crawl's main menu (there is also a bottom part showing savegames that I've cut off because it's not important). There's a bunch of options here, but we're mostly concerned with two, "Dungeon Crawl", which is the game proper, and the High Scores list at the bottom. There's also a bunch of minigames you can play, and an object-testing arena, but those are not the focus of this let's play. Let's check out my high scores!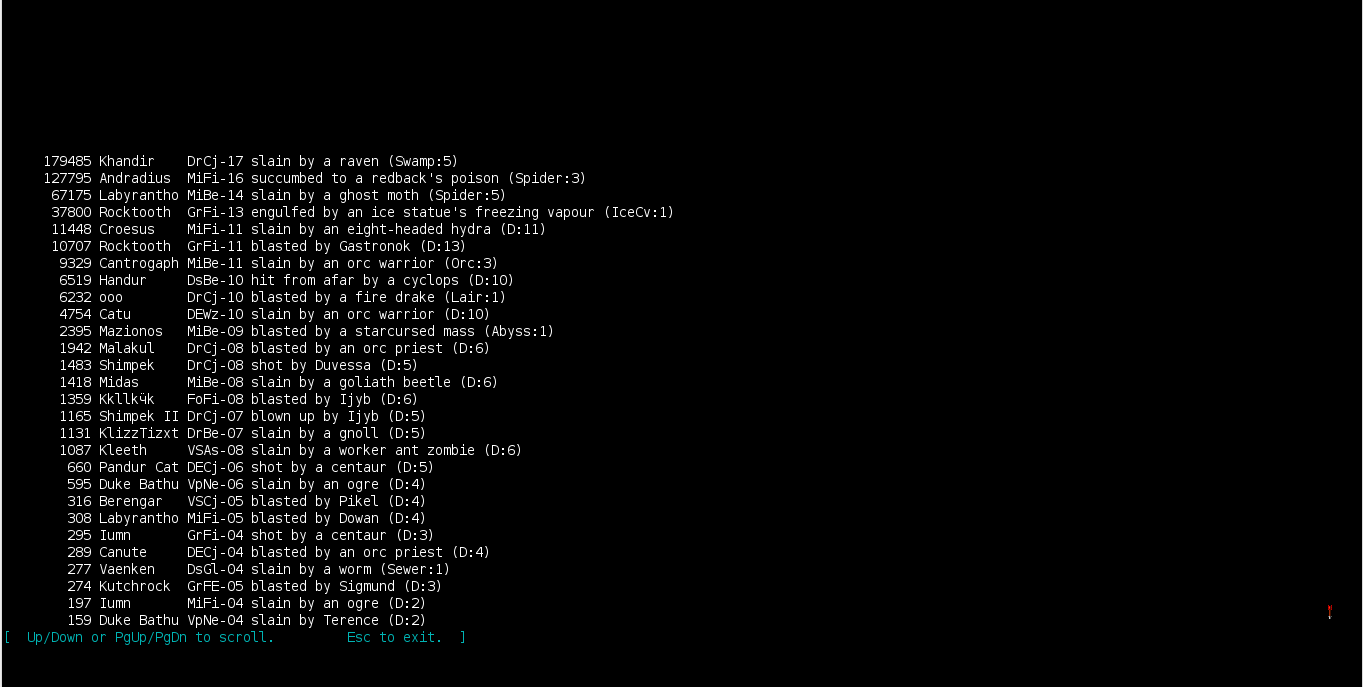 You may notice that I have a penchant for coming up with random, vaguely fantasy-sounding names for my characters ("ooo" excepted, but that's a long story). You may also notice that my best ever character, who I finished playing as just today in fact, died on Level 5 of The Swamp! So you might be saying to yourself "What gives Mo? You're going to play a game that you've never beaten? That's rather lame." And for almost any other game you'd be right, but Crawl, like most roguelikes, is real freakin' hard, and also quite long. I've been playing on and off for about a year and a half and have never beaten it, and my situation is far from unique.
So our overarching goal for this LP is to complete a "standard" run of Crawl! This involves delving through The Dungeon, going to many side-areas and obtaining three runes, and finally entering the realm of Zot, to retrieve the Orb of Zot, and then escaping the dungeon with it. If you're a little confused, don't worry about it. I'll explain things in more detail as we go along.
Now, let's get started with a run proper.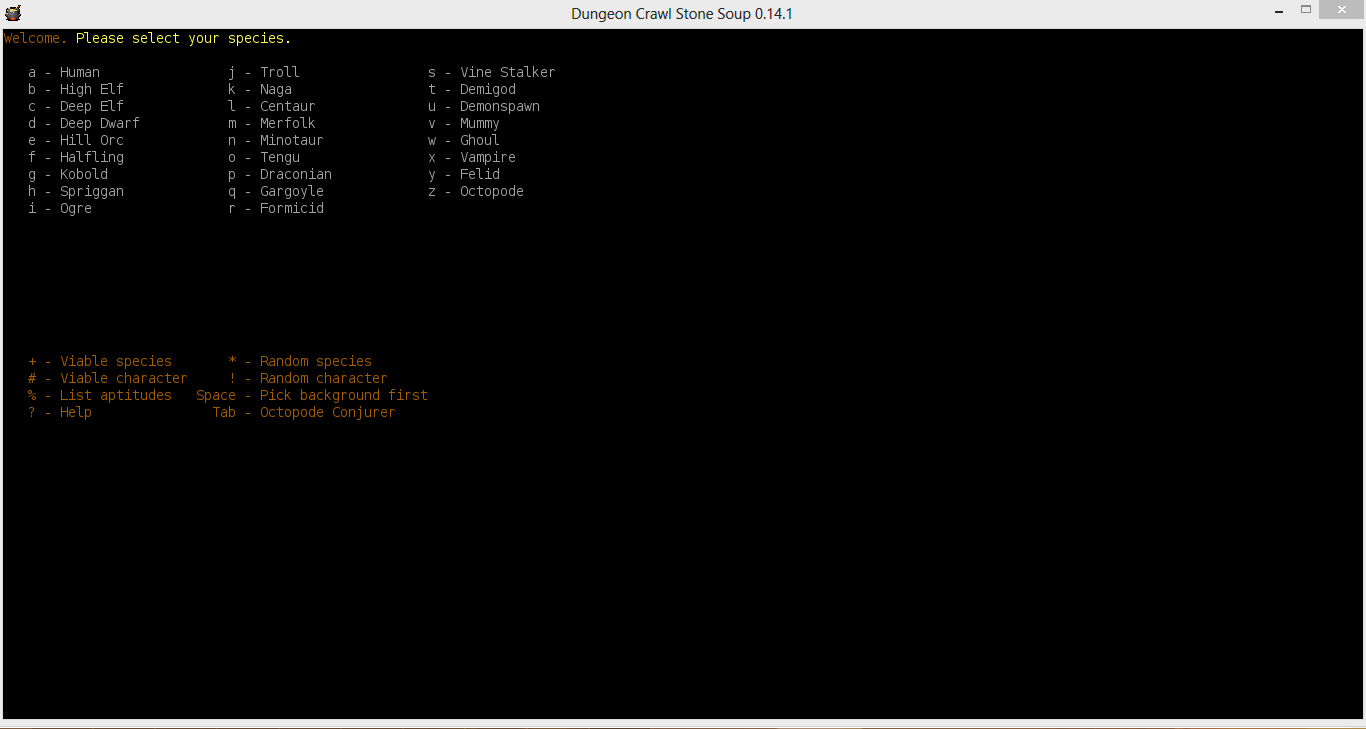 Here's Crawl's species selection screen. There's a pretty huge variety of species available, ranging widely in difficulty, and also in common-ness in fantasy settings. Some are so standard they're cliche (Humans, Elves, etc.) some are more commonly used as antagonists (Orcs, ogres, trolls, kobolds, vampires....) and some are so out there that they require further explanation (the Formicids, who are ant-men, and Vine Stalkers, who rather remind me of The Flood from Halo, are just two examples). For now, we're going to be picking a Minotaur. Why? Because Minotaurs are one of the easiest and simplest species to play with. Possibly
the
easiest and simplest species to play with.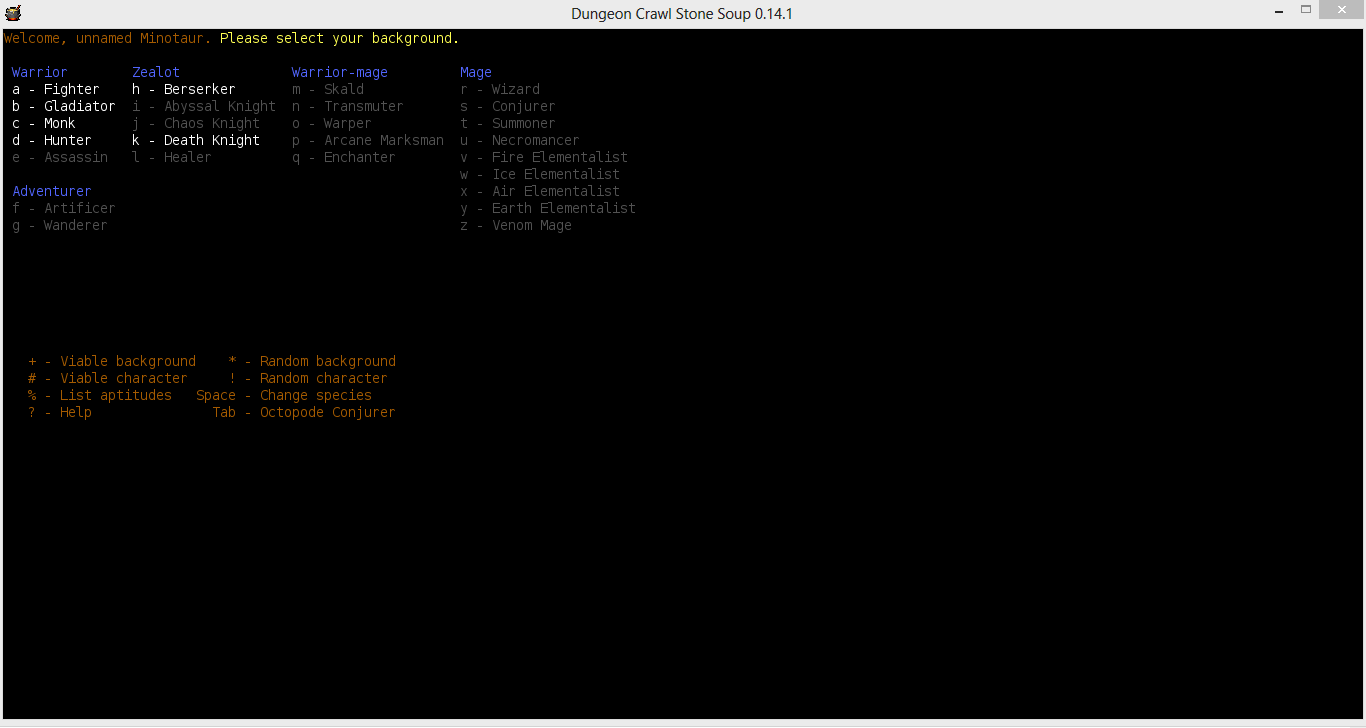 here's our class selection. There are a lot of classes too, but as you can see, most of them are greyed out for the minotaur. Now, this doesn't mean we can't select them, it just means that our particular species' aptitudes aren't necessarily suited for them. We're going to go with a Fighter. Minotaur Fighters are some of the easiest characters to win the game with, and they have a pretty simple playstyle.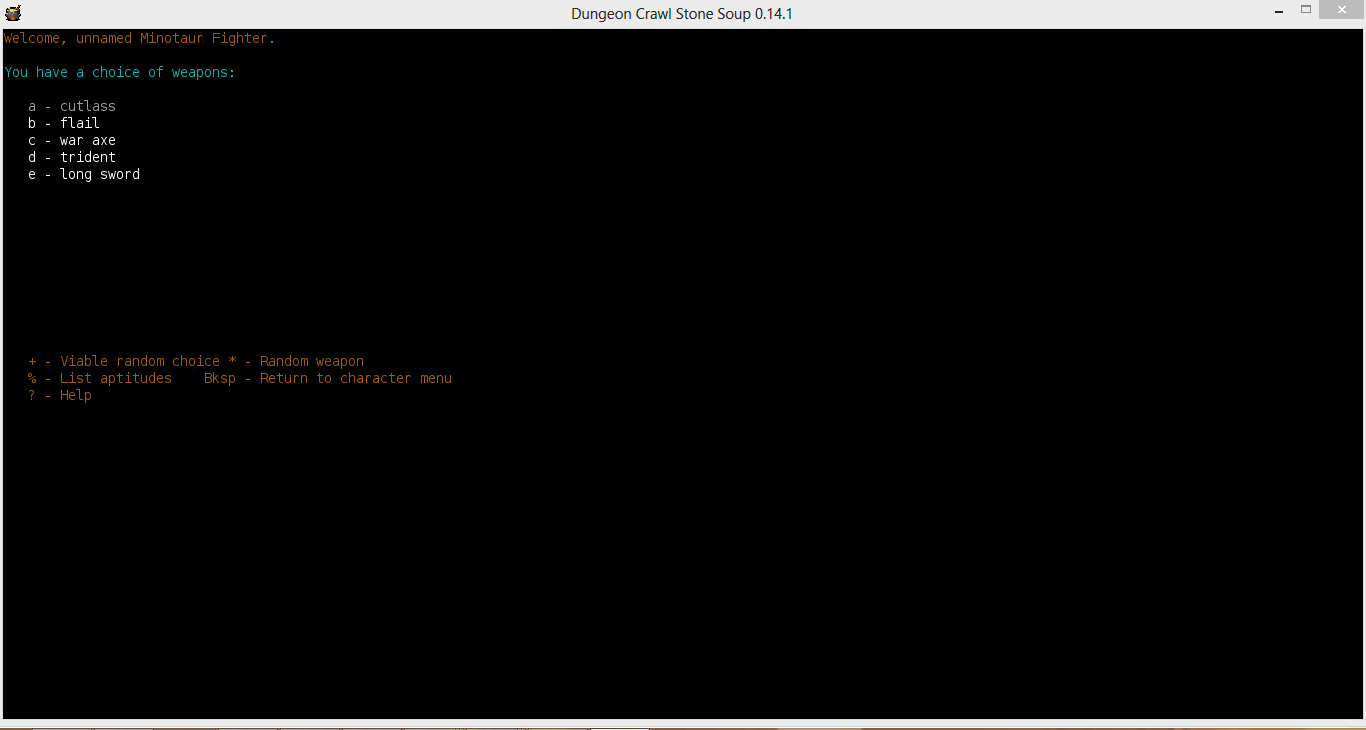 The game will then ask us for our preferred starting weapon, a prompt you get with most melee classes. We're going to go with a trident, a weapon in the polearm category. Polearms generally are slow, and do less damage than weapons of a similar rarity in different categories, but they can all be wielded with a shield (meaning we'll be better off defensively) and can all "reach" to attack enemies an extra space away.
Finally, the game asks us for a name. What I've been doing lately with Minotaurs is opening Wikipedia's "Famous Explorers" list and selecting names I like. Today, "
Hanno
" catches my eye, so we'll be going with that.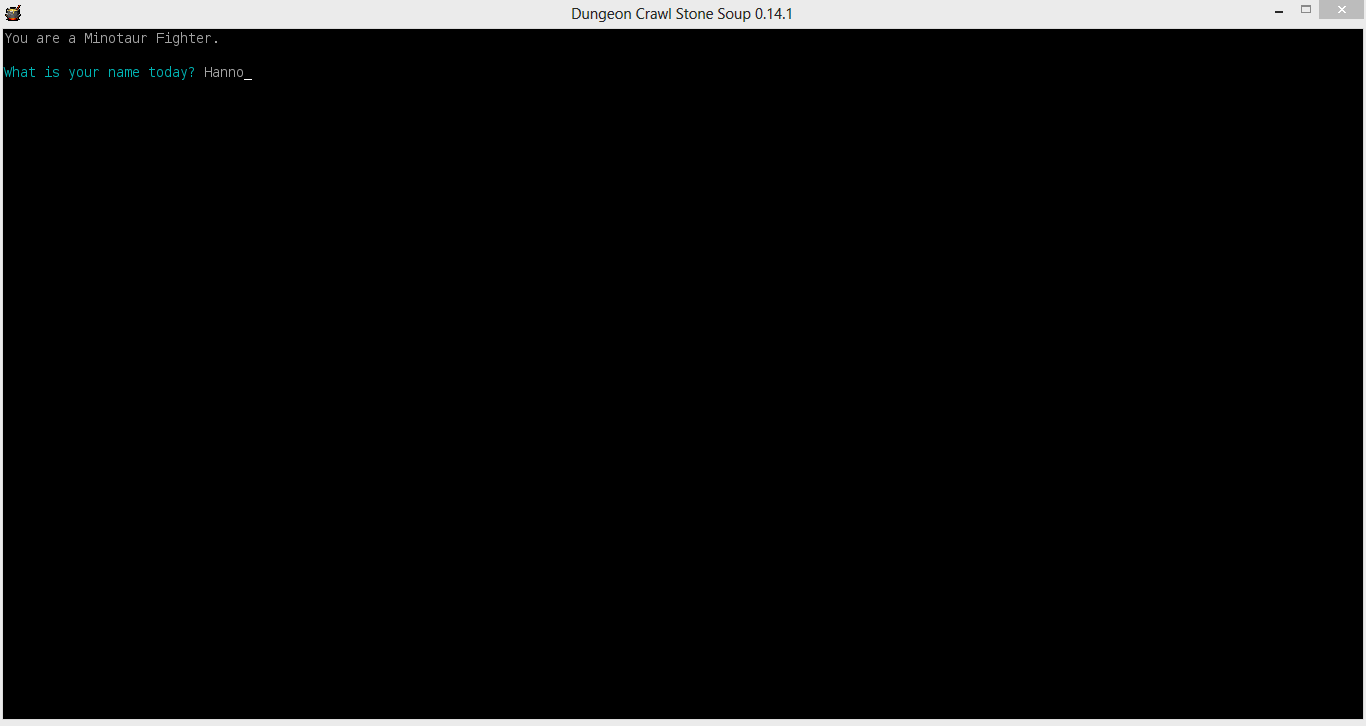 Let's dive in, shall we?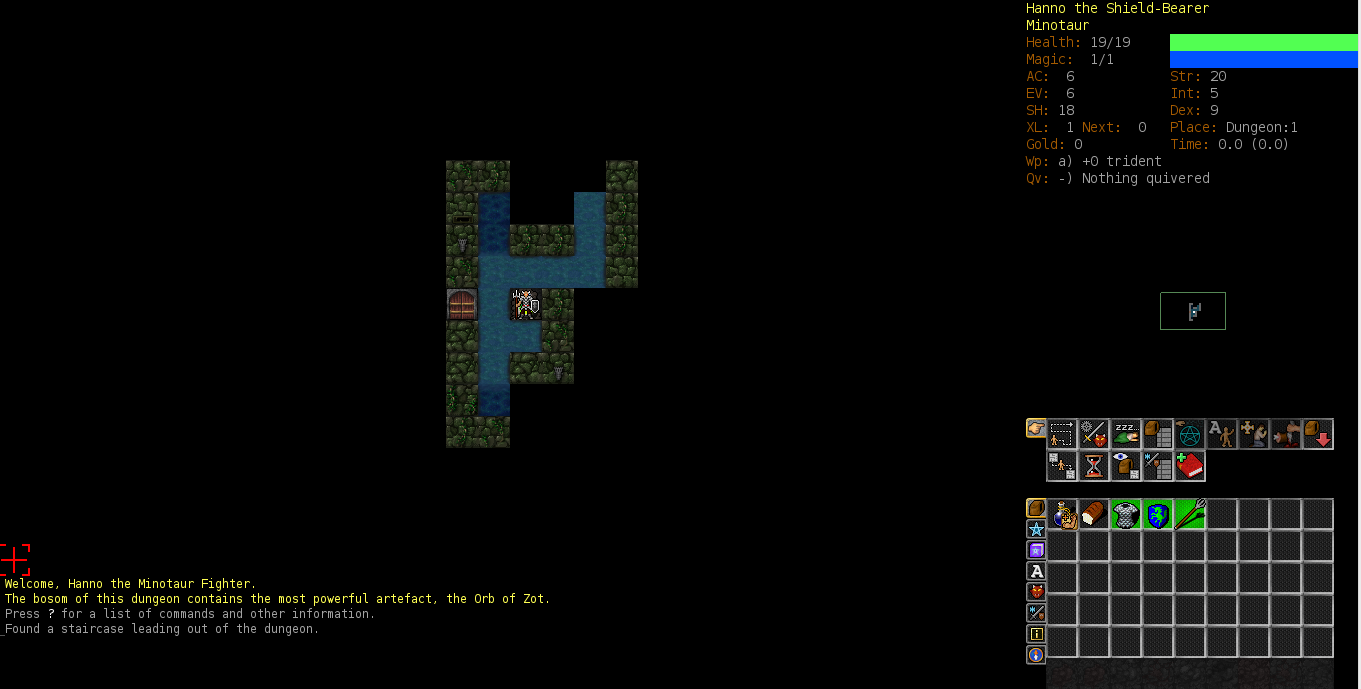 Before we do anything, let's take a look around. Crawl operates on a turn-based system, so nothing will happen until we take our first step in the dungeon. Notice our inventory in the bottom right, we've got a potion of might (which temporarily increases our Strength score), a bread ration (food is very important in Crawl), a suit of scale mail, a trident, and a shield, all of which we have equipped.
Being a Minotaur gives us several notable inherent traits as well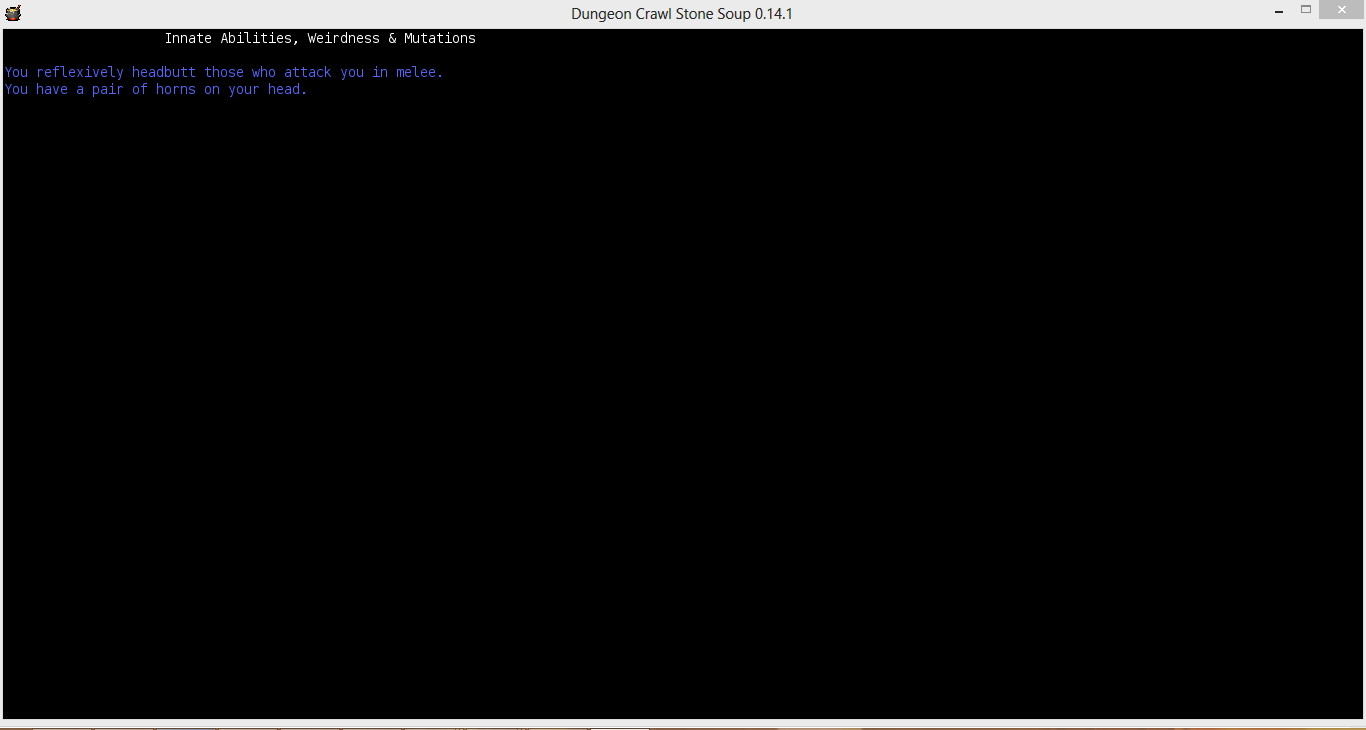 this boils down to us getting an additional attack during combat, and not being able to wear helmets. All in all, a fair trade. This screen actually starts out blank for members of some species, like humans. I say "starts out" because it's possible to gain more abilities, but we'll get to that later.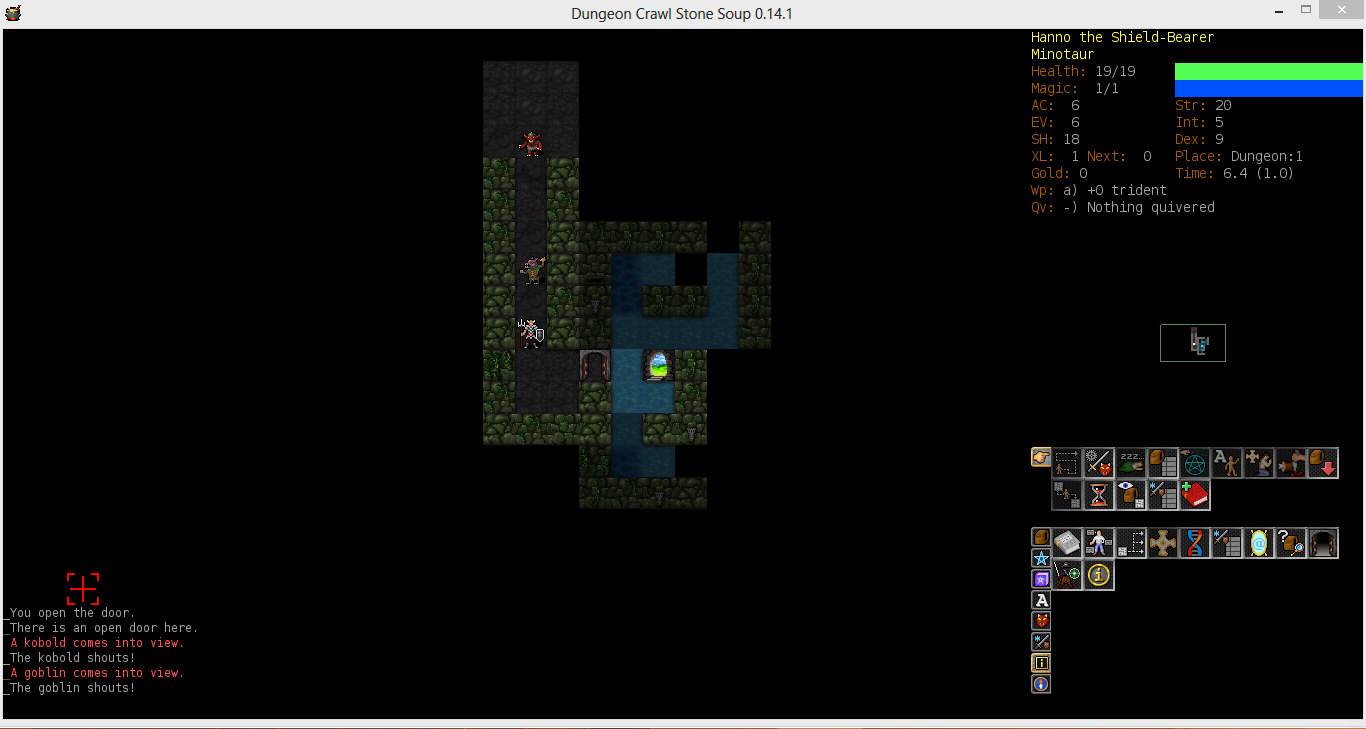 And right out of our entrance, we've run into our first two monsters.
For a frail spellcaster, this would be a problem, since Kobolds (the nearer monster) and Goblins (the farther away) can actually be a bit troublesome on the very first floor.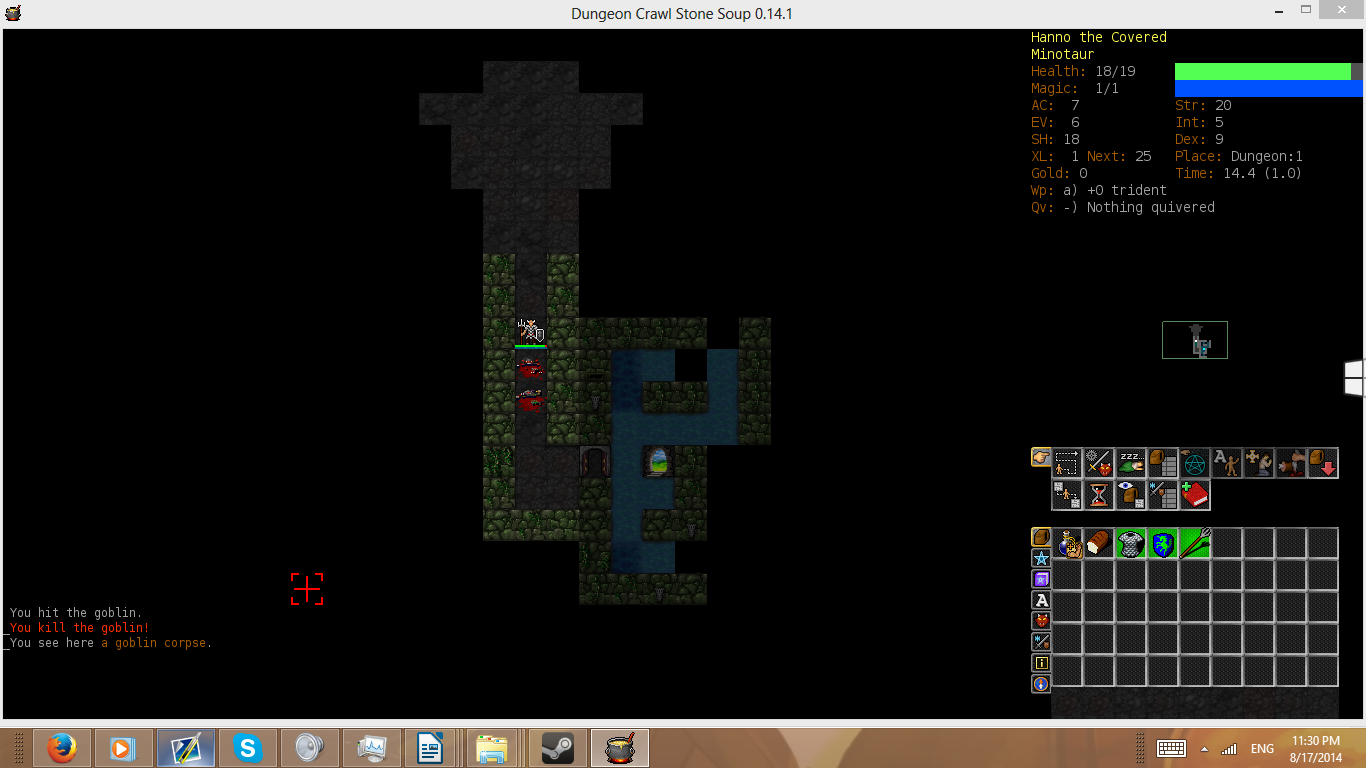 Luckily, we are not frail. We can (and will) chop up the corpse of that goblin for food. It's grisly, but you do what you must to survive in the Dungeon of Zot. The Kobold has poisonous flesh, and we will thus avoid eating him.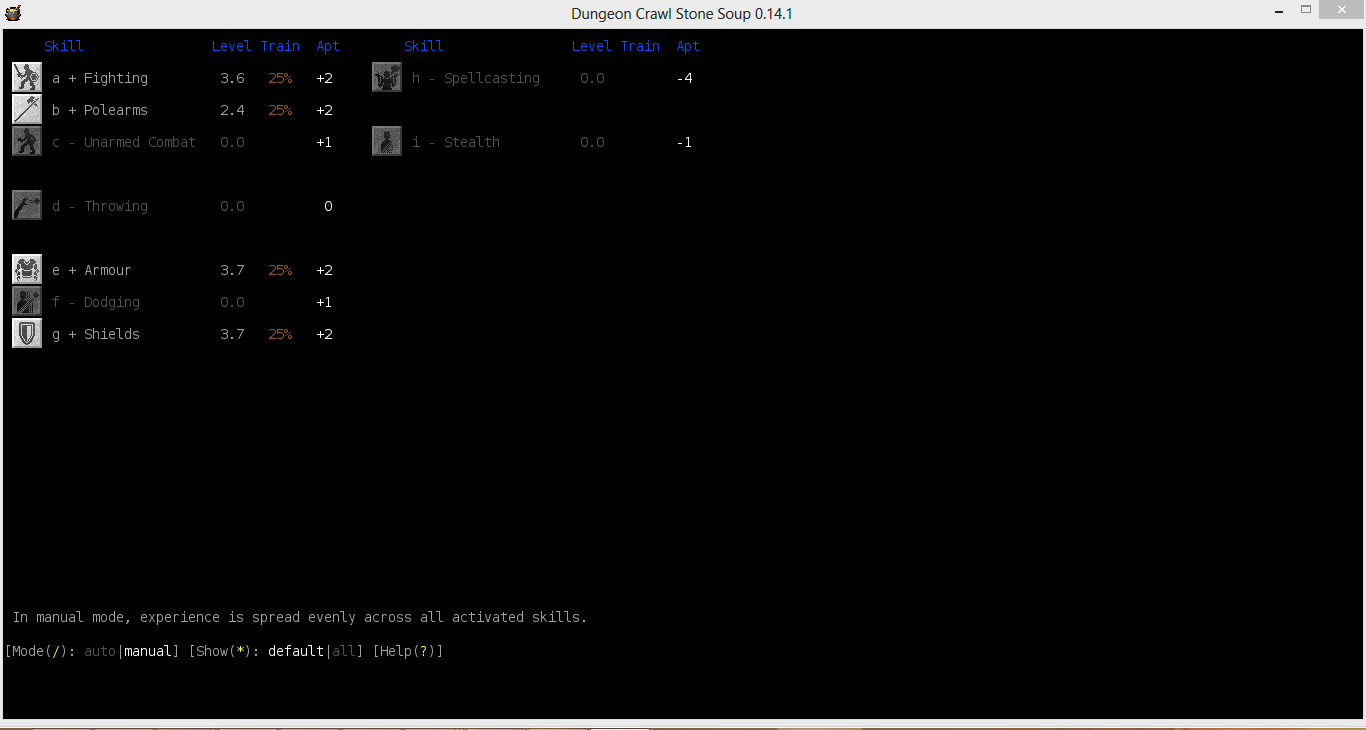 We also take a moment to set our skill training to "manual". This is very important (moreso on casters than melee fighters, but even still then), mostly because it will prevent the game from deciding that we need to train Throwing because we just tossed a single rock. Having multiple skills training at the same time makes all of them train slower, so having relatively few training at a time is generally advisable.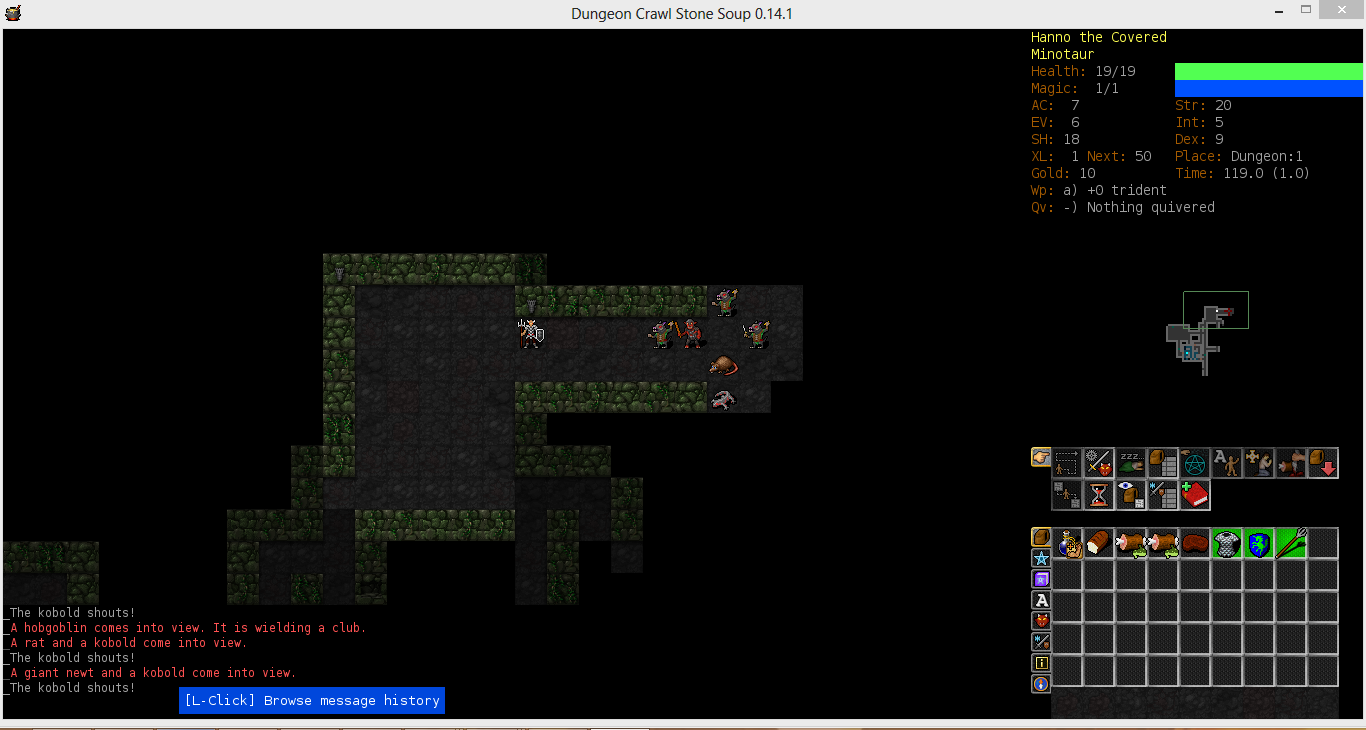 Goodness! We run into a rather large throng of monsters not long afterward, the big orange fellow is a hobgoblin, his tile is worse than his Strength score. And yes, that is a newt next to that rat.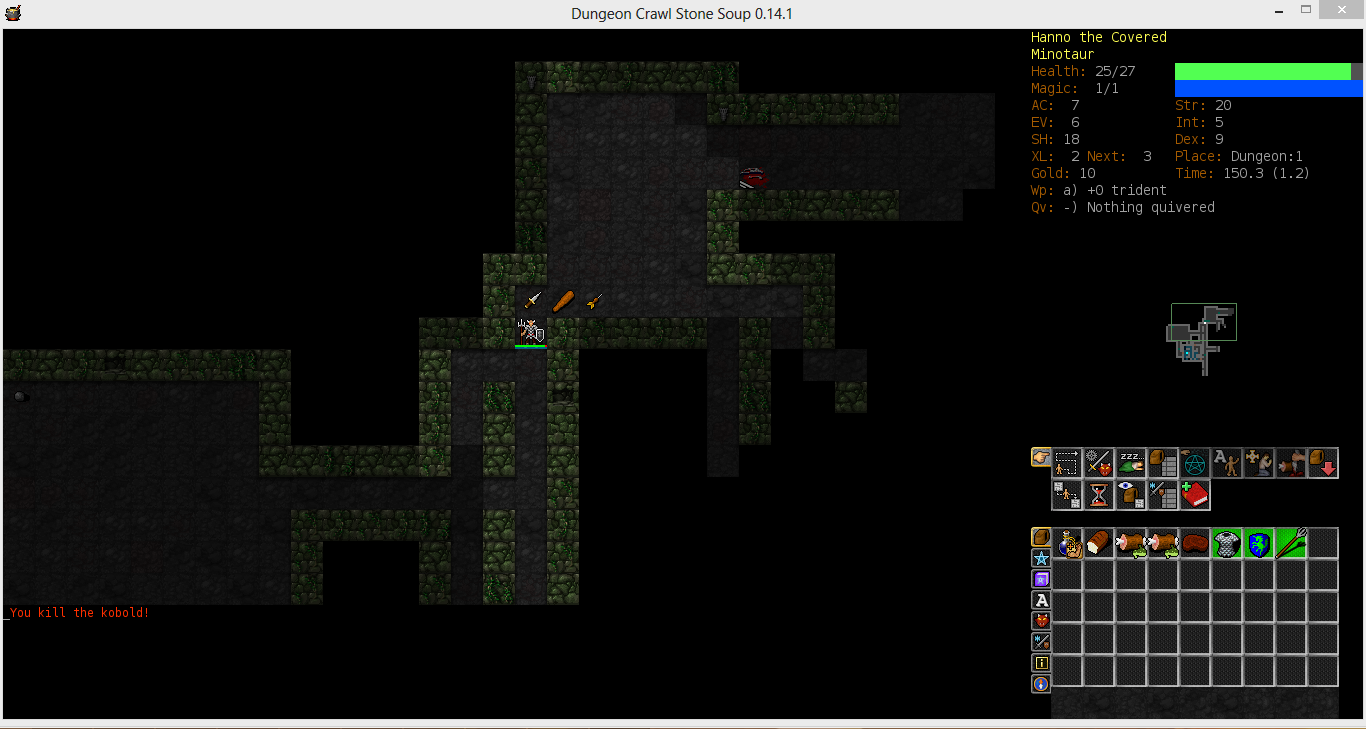 Were we a caster, this would spell almost instant death for us, but for the second time in just a few minutes, Hanno's fighting skills pull him through largely unscathed.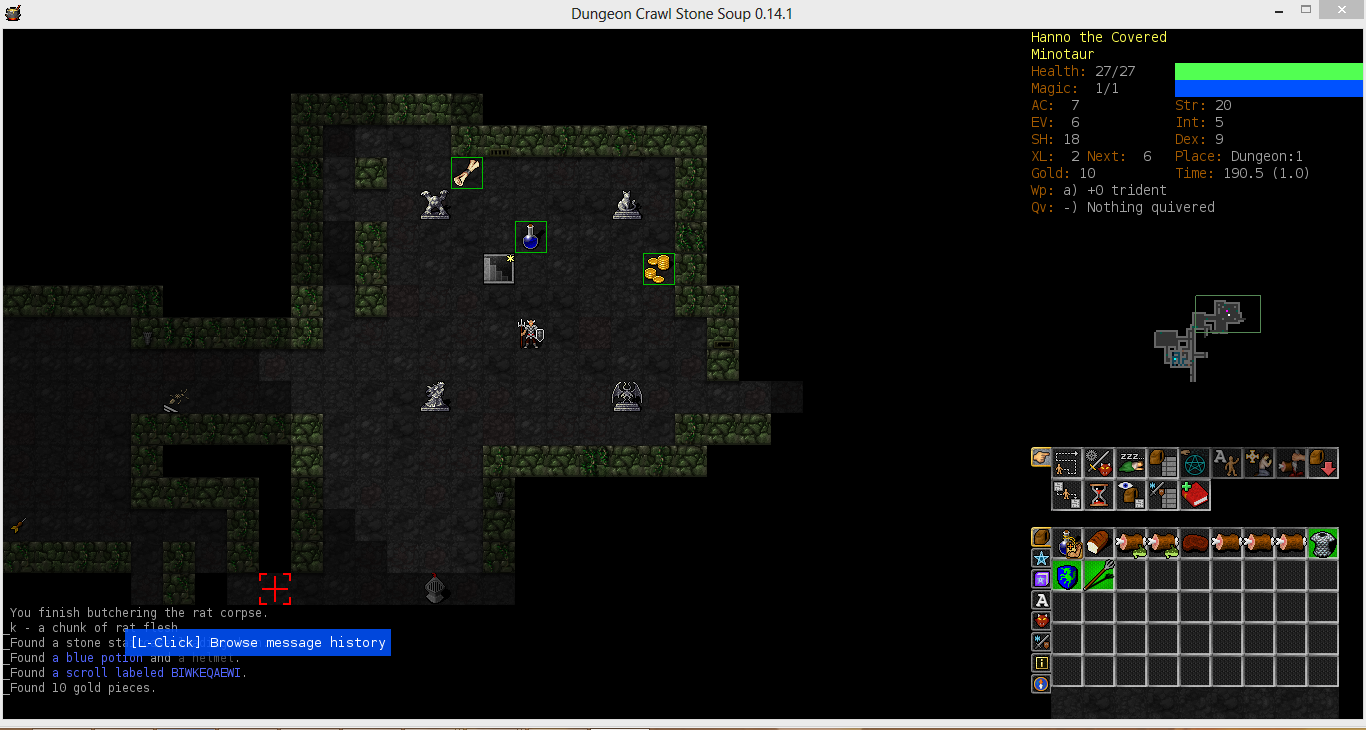 Our first bit of loot! Hooray! Also some statues, but we're more concerned about the loot. Scrolls and potions in Crawl, much like in other roguelikes, do not have immediately apparent effects upon picking them up. We have to either use them to have them ID'd to us, or, we have to use a Scroll of Identify on them. Funnily enough, we don't know what Scrolls of Identify look like either, so we begin use-ID'ing our small treasure.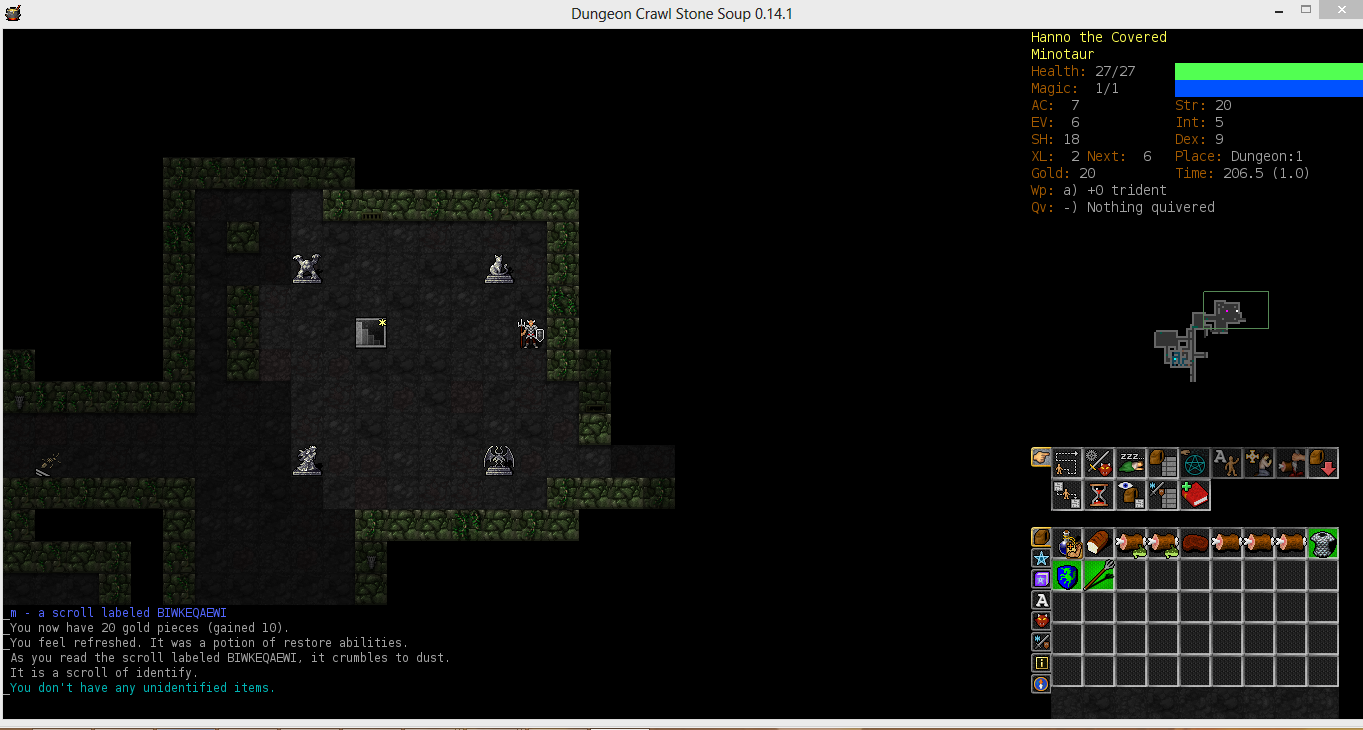 Stupidly, I drink the potion before using the scroll. As you can see, it was a Scroll of Identify that I wasted because I had nothing unidentified to use it on. Oh well. The potion was one of Restore Abilities, one we'll hopefully never have to rely on.
A bit further on, we find some gloves and a Potion of Resistance, which makes us more protected from various elemental energies.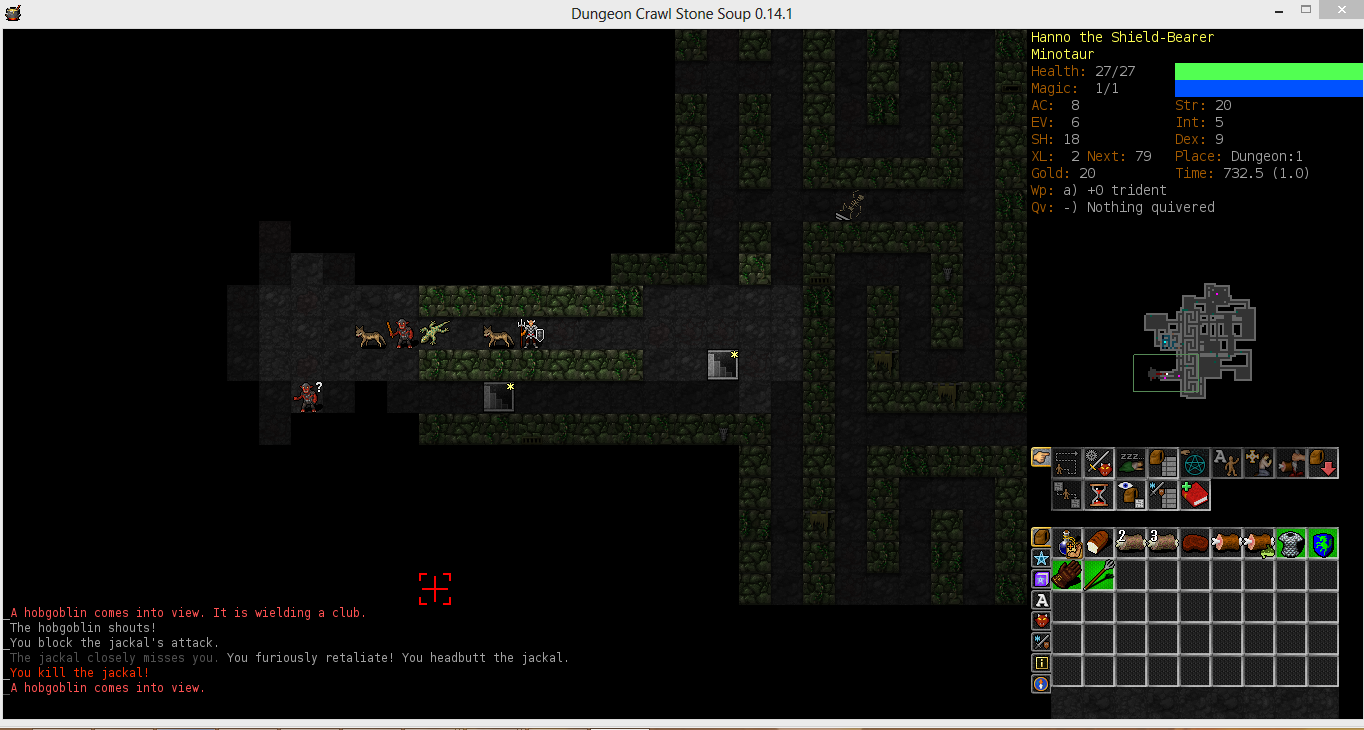 Another mob of monsters! We lure them into a single-tile hallway and dispatch of them one-by-one, a useful tactic all aspiring dungeon-delvers should learn.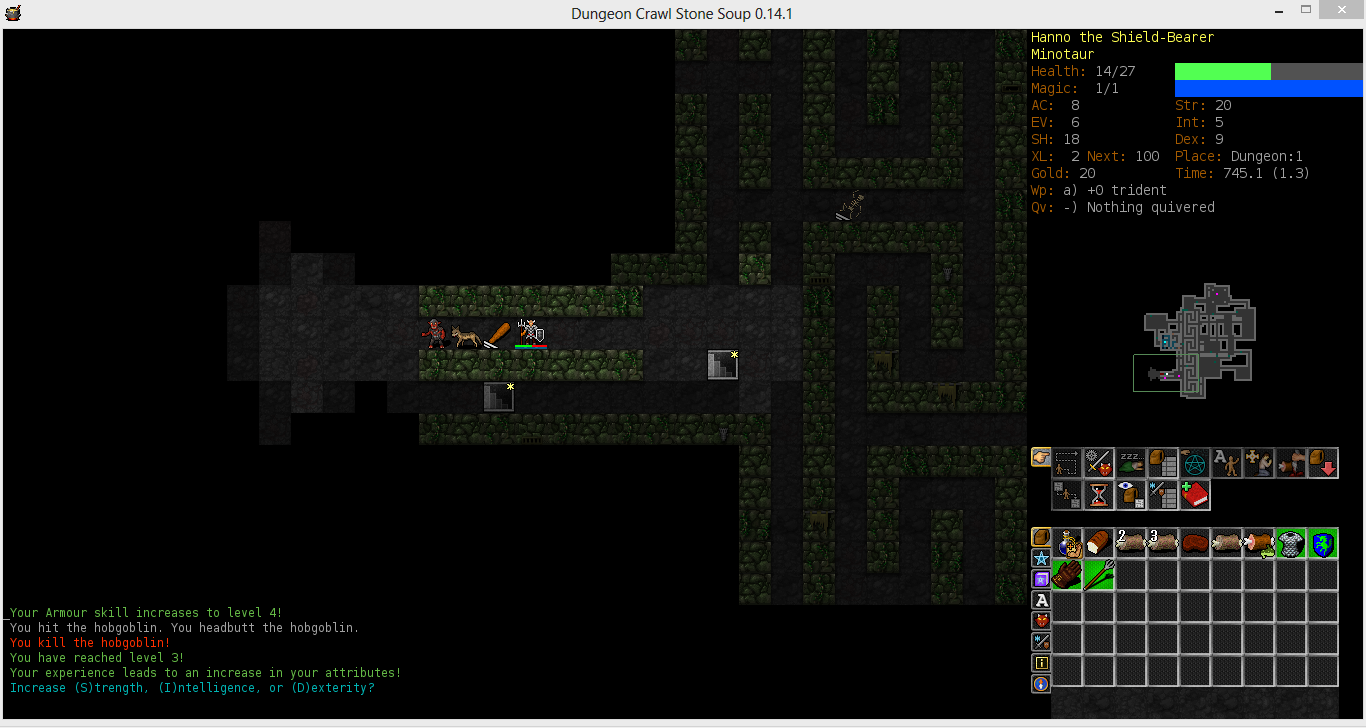 Off this mob, we hit our third level, having quietly gained our second some time ago. This allows us to gain a specified stat up. It should surprise no one that I choose Strength as our stat of choice.
We've cleared out the whole first floor by now, and we found this! Altars are rather rare on the first floor, and what they let you do is join a particular religion. This one belongs to Cheibriados, God of Time. Also the God of Taking it Easy, and Being Rather Slow. Chei, like all gods, offers various powers in exchange for your worship. Chei will make you slower while boosting your other stats, and gets offended if you use spells like Haste to speed yourself up. He's an interesting god, and not even a bad choice for us, but we're not going to go with him on this playthrough, I have other plans in mind.[/spoiler]