What've You Been Listening To?
Basically, every week you go to
this website
and make a grid of albums you listened to in the past week. I will be doing mine on Wednesdays, but you can do them whenever you like.
You can do writeups if you like, and ask each other questions and give recommendations. I started doing this for the HipHopHeads forum's weekly What Have You Been Listening To? threads. Some albums don't have an entry on Topsters but you can make them yourself (unless you try to upload a picture from Bandcamp, which I learned while trying and failing to put Yarrun's album on here).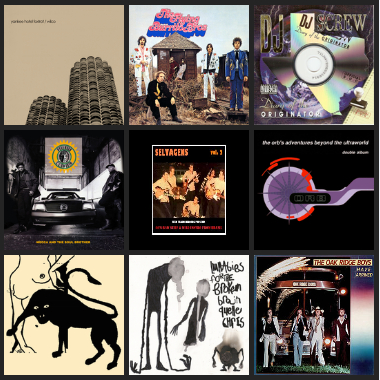 Quoting myself from the HHH thread:
I'll only do writeups of the rap albums, since I don't think anyone cares what I think about The Oak Ridge Boys. Obviously tho, if you have any questions I'll answer them. Recommendations are fine too.

Wilco - Yankee Hotel Foxtrot

The Flying Burrito Brothers - Gilded Palace of Sin

DJ Screw - Diary Of The Originator Chapter 003 - Duck Sick:

This one was cool. I've been slowly listening to the DoTO series in order, and this might be my favorite so far even though the SUC is barely on this one. Quite a few songs on here I've never even heard of, whereas the previous two I at least had heard of the tunes being played. The tape's two last tracks, Steel Pulse's "Mardi Gras", and Tracie Specer's "Tender Kisses" are especially interesting to me since they're not hip-hop songs. I also really dug "Reality" by The LBC, and if anyone could give me any info on those guys I'd be appreciative, since I can't find much about them (though I suspect the name might stand for "Long Beach Clique" or something since they shout out Long Beach if memory serves).

Pete Rock & C.L. Smooth - Mecca & The Soul Brother:

I'd actually never listened to this in full before, and I'm glad I finally did. Fucking great album although I'm not sure how much I could say on it that's not already been said. CL is an underrated MC for certain, the way he just kinda snakes around and through the beats is so, so cool. I plan on listening to The Main Ingredient next, as I know a lot of people actually like that one better.

The Orb - The Orb's Adventures Beyond The Ultraworld

Prins Thomas - Principe del Norte

Quelle Chris - Lullabies For The Broken Brain:

A very dark, interesting beat tape. Sounds a little bit like Madlib but with the sadness cranked way up. It's a cool record but I'm a bit bereft of things to say about it, I did really like it though and Pitchfork did too if that's the sort of thing that matters to you. I'd check it out if you're the type to dig beat tapes.

The Oak Ridge Boys - The Oak Ridge Boys Have Arrived
Tagged: